Yante brings hard core technology products to the 2021 tissue paper international technology expo
2021-06-03 
During May 26-28, 2021, the 28th CIDPEX International Technology Exhibition (CIDPEX) will be held at Nanjing International Expo Center, covering four categories: household paper, sanitary products, raw and auxiliary materials, equipment and equipment; Household paper, maternal and child care products, elderly care products, baby and child hygiene products/wipes, non-woven fabrics, super absorbent resin/hot melt adhesives/packaging and printing, other raw and auxiliary materials, sanitary products equipment, toilet paper machines and accessories There are 11 exhibition areas for toilet paper processing equipment and packaging equipment, covering the entire upstream and downstream industrial chain of the industry.
The products displayed by Yante include XT-48BN Brightness Meter, YT-H4E Computer Thickness Tester, YT-DL100 GSM Sample Cutter, YT-RRY1000 Computer Softness Tester, etc., showing that Yante is in papermaking inspection, packaging Achievements of the testing industry.
YANTE BOOTH
The XT-48BN Brightness Meter is a special instrument for measuring the whiteness of objects. It is widely used in papermaking, printing, textile printing, construction, chemical, food, salt, powder and other industries and other industries that need to determine the whiteness of objects. Department.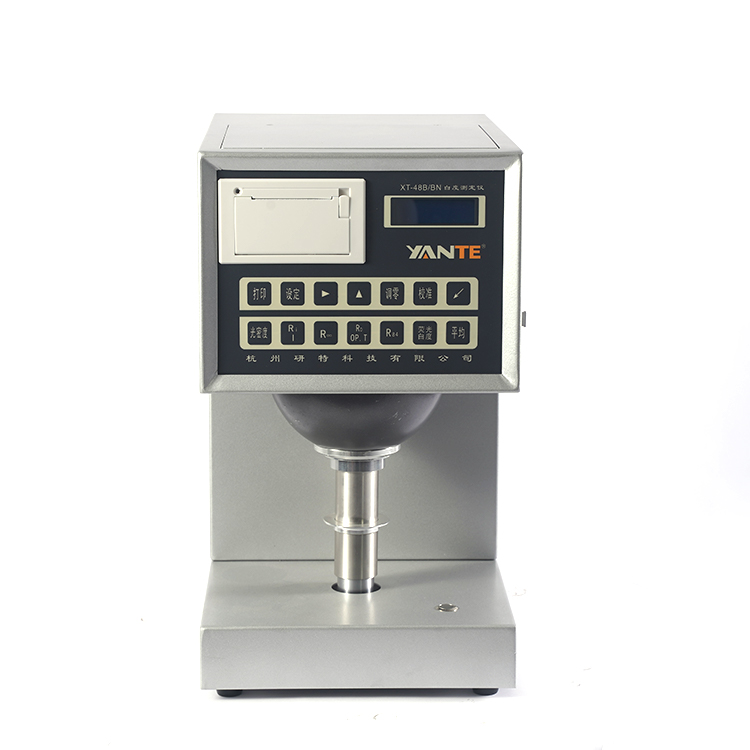 XT-48BN Brightness Meter
In front of the Yante booth, the audience was full of people, and there were countless fans on the scene. Yante engineers actively serve customers who come to consult, and through patient and meticulous explanations, they provide customers with a comprehensive and professional service experience, and have won many praises and praises from the audience.
Although CIDPEX has come to a successful conclusion, the service of Yante will not end! We will not forget our original aspirations, innovate through the old, and contribute to the development of the papermaking inspection industry.