What instrument should be used to test the short span compressive strength of paper?
2019-10-28 
YT-SCT500 Short Span Compression Tester is a new type of instrument researched and developed according to the requirements of international standard ISO 9895 and national standard GB/T 2679·10 《paper and cardboard short-distance compression test method》.
It is mainly used for the manufacture of paper and cardboard for cartons and cartons, as well as for paper sheets prepared by the laboratory during pulp testing.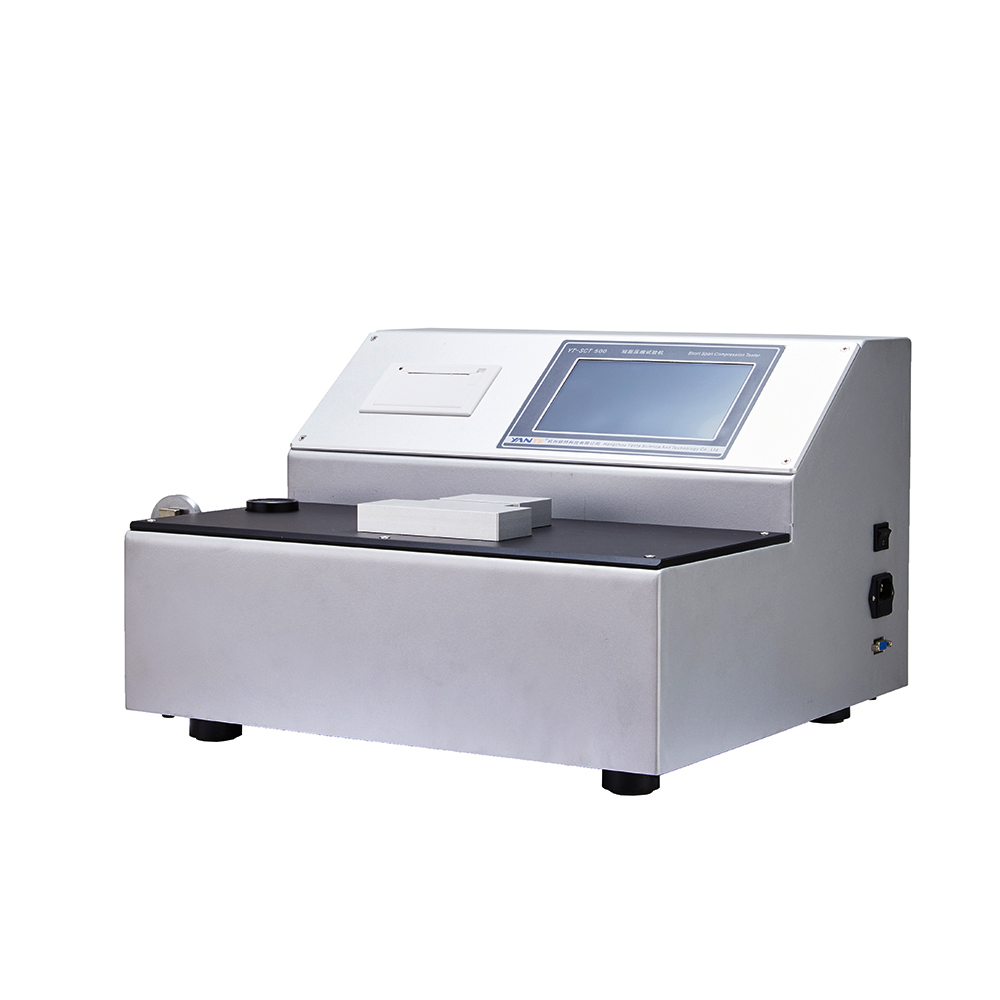 Product Features
Ø Advanced design ideas, with precision parts, using double cylinders, pneumatic clamping sample, reliable guarantee of the standard parameters.
Ø Adopt 24-bit precision analog-to-digital converter, 32-bit ARM processor, 7-inch color touch screen, Chinese and English bilingual menu, easy to operate.
Ø High speed Flash data storage is added, which can store 5000 batches of data to facilitate users to consult historical measurement data.
Ø Added notes and notes input function when storing data (support input in Chinese and English) to facilitate users to annotate stored batches.
Ø Historical data can be searched by number or date to facilitate users to find data quickly.
Ø Stepper motor drive, accurate and stable speed, and fast return trip, improve test efficiency.
Ø Vertical and horizontal tests can be carried out in the same batch, and the average values can be printed in both directions.
Ø Added the function of saving data of sudden power failure. After starting up, the data before power failure can be retained and tested.
Ø Real-time force-displacement curve is displayed during the test to facilitate users to observe the test process.
Ø special fast GSM selection and setting to facilitate users to set quantitative quickly.
Key Technical Parameters
² Power Supply AC(100-240)V 50/60Hz 50W Reliable grounding
² Working Environment Room Temperature 20℃±10℃,Humidity< 85%
² Measuring Range 10-500 N
² Sample clamping force 2300 ± 500 N(Air pressure 0.3-0.4Mpa)
² Resolution 0.1N
² Indication accuracy Indication error ±0.5%
Indication variability ≤0.5%
² Free space of sample holder 0.70 ± 0.05 mm
² Test speed 3 ± 1 mm/min(Relative movement speed of two clamps)
² Sample clamping surface size 30mm × 15mm Length×Width
² Display 7-inch , 800*480 pixel color resistive touch screen
² Print Built-in thermal printer
² Air source Air pressure more than 0.4Mpa
² Number of data stores Can store 5000 batches of data(shutdown is not lost)20 test data in each vertical and horizontal direction
² Communication Interface RS232 USB2.0 or RS232 OptionalWIFI(Follow-up support)
² Dimension 455(L)×425(W)×280(H) mm
² Net Weight 37kg
Standards
ü GB/T 2679·10 ISO 9895 TAPPI T-826
Hangzhou Yante Science And Technology Co.,Ltd.. is a high-tech enterprise in Hangzhou, mainly engaged in the research and development, production, sales and service of various intelligent testing instruments and automatic control equipment in the packaging, paper, printing, textile, cigarette, electromechanical, chemical and other industries. The company has 15 computer software copyright patents, 4 invention patents and utility model patents. It has a CMC measuring instrument manufacturing license and operates in accordance with the ISO9001 international quality management system. It is a new domestic professional testing instrument supplier with a strong sense of pioneering and innovation.
We are dedicated to independent innovation in the field of testing instruments and meters. We develop and produce special testing instruments with advanced technology, high quality and low price. The main products are whiteness meter, colorimeter, compression testing machine, horizontal (vertical) paper Computer tensile tester, smoothness tester and box compression tester are used in papermaking, packaging, chemical, printing and other industries.
"Professional, thick, honest, continuous innovation" YANTE company constantly pursue, and strive to innovate the business philosophy, to provide customers who need testing instrument with professional industry solutions and high quality services, determined to become the leader of paper and packaging testing instrument industry.