How to measure the friction and coefficient of friction of the film?
2019-10-24 
The friction coefficient tester is used to measure the static friction coefficient and dynamic friction coefficient of plastic film and sheet, and can intuitively understand the smoothness and opening property of the film, and display the distribution of the slip agent through the curve. By measuring the slipperiness of the material, it is possible to control the production quality process indicators such as adjusting the opening property of the packaging bag and the packaging speed of the packaging machine to meet the requirements for product use.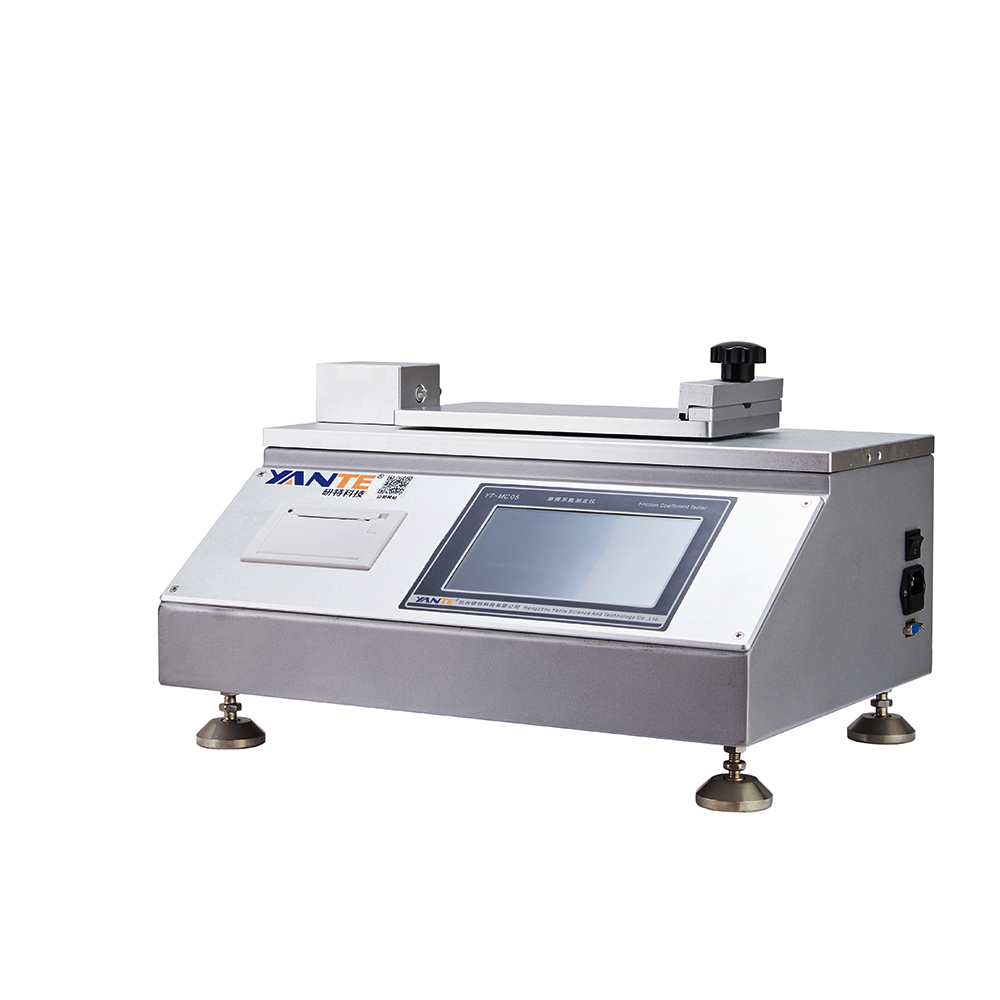 Product Features
Ø The instrument uses ARM processor, 7-inch large screen color
touch display;
Ø Test data memory function, high speed thermal printer Printout, fully automatic test function;
Ø With test data statistical processing function, real-time display measurement test data and curves;
Ø Losed-loop servo motor drives precision ball screw, guaranteed position
accurate shifting, smooth running and low noise;
Ø Standard RS232 computer communication interface
Key Technical Parameters
² Power Supply AC100-240V 50/60Hz 50W
² Working Environment (10~35)℃, Humidity≤ 85%
² Force range 0.05 - 5N
² Resolution 0.001N
² Slider size 63×63 mm
² Slider weight 200g
² Test bench size 200×455 mm
² Measurement accuracy ±0.5%
² Slider speed 100±10mm/min
² Slider stroke Maximum 100mm (adjustable)
² Print Built-in thermal printer
² Communication Interface RS232
² Dimension 455(L)×330(W)×240(H)mm
² Net Weight 30Kg
Standard configuration:
Friction Coefficient Tester , 200g slider
Standards
GB10006-1988
Hangzhou Yante Science And Technology Co.,Ltd.. is a high-tech enterprise in Hangzhou, mainly engaged in the research and development, production, sales and service of various intelligent testing instruments and automatic control equipment in the packaging, paper, printing, textile, cigarette, electromechanical, chemical and other industries. The company has 15 computer software copyright patents, 4 invention patents and utility model patents. It has a CMC measuring instrument manufacturing license and operates in accordance with the ISO9001 international quality management system. It is a new domestic professional testing instrument supplier with a strong sense of pioneering and innovation.
We are dedicated to independent innovation in the field of testing instruments and meters. We develop and produce special testing instruments with advanced technology, high quality and low price. The main products are whiteness meter, colorimeter, compression testing machine, horizontal (vertical) paper Computer tensile tester, smoothness tester and box compression tester are used in papermaking, packaging, chemical, printing and other industries.
"Professional, thick, honest, continuous innovation" YANTE company constantly pursue, and strive to innovate the business philosophy, to provide customers who need testing instrument with professional industry solutions and high quality services, determined to become the leader of paper and packaging testing instrument industry.