How to measure the strength of books?
2019-10-16 
YT-BBS300 page pull tester is a product developed according to the relevant provisions of the standard of the press and publication industry standard "EVA type hot melt adhesive requirements and test methods for book binding" proposed by the National Printing Standardization Technical Committee,It is mainly used for the determination of bookbinding strength; it is an indispensable main test instrument for books, magazines, printing and binding, book printing quality supervision and testing, scientific research and other industries and units.
Product Features
Ø Equipped with universal energy saving to make the pages of the book evenly stressed, avoiding tearing the pages instead of breaking them
Ø The force value upper limit setting is added, and when the book page stretching force reaches the set value without breaking, the binding is qualified, the lower clamp automatically returns, the book page is not damaged, and the user reduces the loss.
Ø The motherboard adopts the latest technology and new design. The CPU adopts 32-bit ARM processor, which improves the processing speed of the instrument and makes the calculation data more accurate and fast.
Ø Inch color touch screen, English display, touch buttons, making operation easy to understand, real-time display of anti-pressure-deformation curve, time and other information
Ø Fixture movement speed is adjustable (5-120mm/min)
Ø Automatic reset, overload protection
Ø Thermal printer core, no need to use ink and ribbon, no noise when working, fast printing speed, etc
Ø This instrument is equipped with standard RS232 interface, which can communicate with computer software.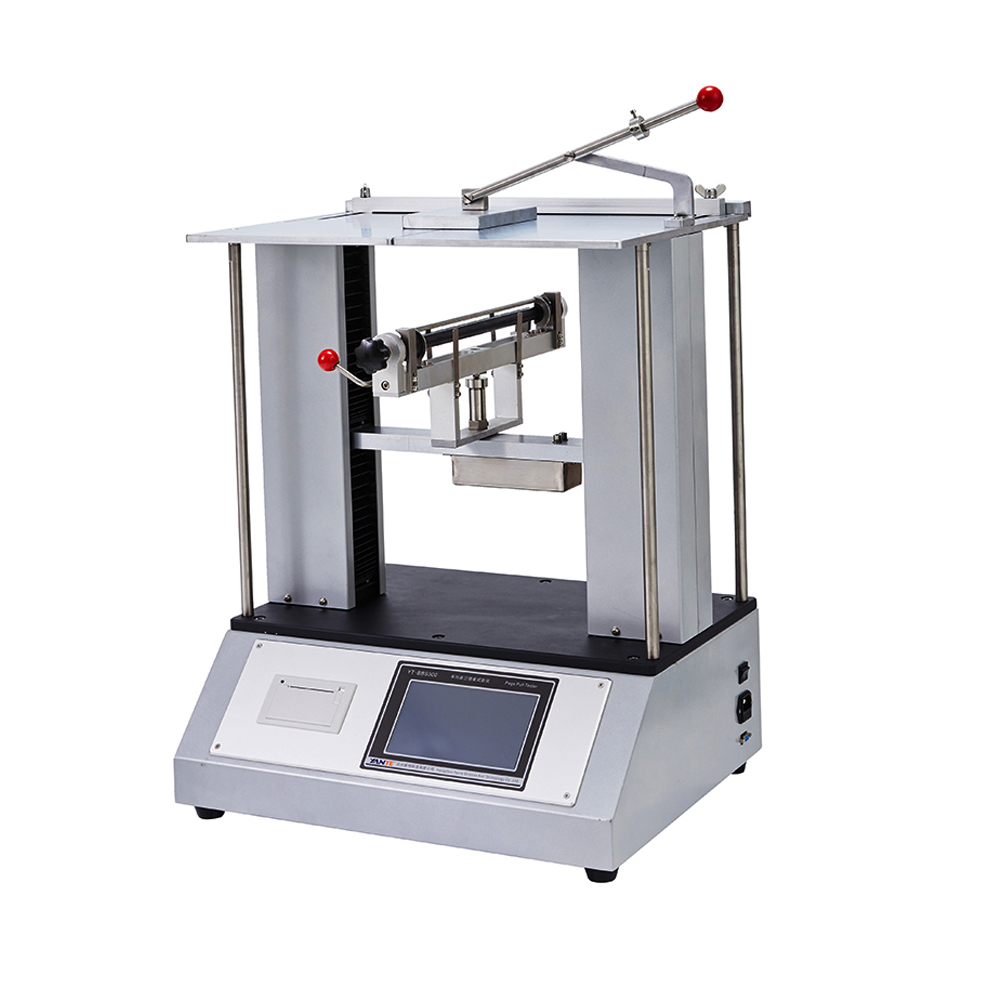 Key Technical Parameters
² Power Supply AC(100~240)V 50/60Hz 100W
² Working Environment (10~35)℃,Humidity≤ 85%
² Measuring Range (0~300)N
² Indicating Value Relative Error ±1%
² Max Clip Book Length 310 mm
² Minimum Clip Page Width 100 mm
² Test Speed 1~120 mm/min
² Speed Error ≤±1%
² Print Built-in thermal printer
² Communication Interface RS232
² Dimension 544(L)×420(W)×810(H) mm
² Net Weight 76kg
Standard configuration:
1. The host of the book binding strength tester;
2. Printing paper;
3. Power cord;
4. RS232 interface and microcomputer software (optional).
Standards
ü CY/T 40
Hangzhou Yante Science And Technology Co.,Ltd.. is a high-tech enterprise in Hangzhou, mainly engaged in the research and development, production, sales and service of various intelligent testing instruments and automatic control equipment in the packaging, paper, printing, textile, cigarette, electromechanical, chemical and other industries. The company has 15 computer software copyright patents, 4 invention patents and utility model patents. It has a CMC measuring instrument manufacturing license and operates in accordance with the ISO9001 international quality management system. It is a new domestic professional testing instrument supplier with a strong sense of pioneering and innovation.
We are dedicated to independent innovation in the field of testing instruments and meters. We develop and produce special testing instruments with advanced technology, high quality and low price. The main products are whiteness meter, colorimeter, compression testing machine, horizontal (vertical) paper Computer tensile tester, smoothness tester and box compression tester are used in papermaking, packaging, chemical, printing and other industries.
"Professional, thick, honest, continuous innovation" YANTE company constantly pursue, and strive to innovate the business philosophy, to provide customers who need testing instrument with professional industry solutions and high quality services, determined to become the leader of paper and packaging testing instrument industry.