What instrument is used to test the bond strength between layered paper layers
2019-09-19 
Before putting the paper into production, it is necessary to measure the interlayer bonding strength of the laminated paper. Most manufacturers generally use an electronic peeling machine for measurement, but in order to guide the production conveniently and quickly, the interlayer bonding strength tester is used instead of the electronic peeling machine to measure the delamination. The bonding strength between layers of paper, the most critical physical index of layered paper is the bonding strength between layers, that is, the Z-direction bonding strength, which reflects the size of the tear resistance between the two layers of the paper, which not only saves costs, but also greatly Improved operating speed.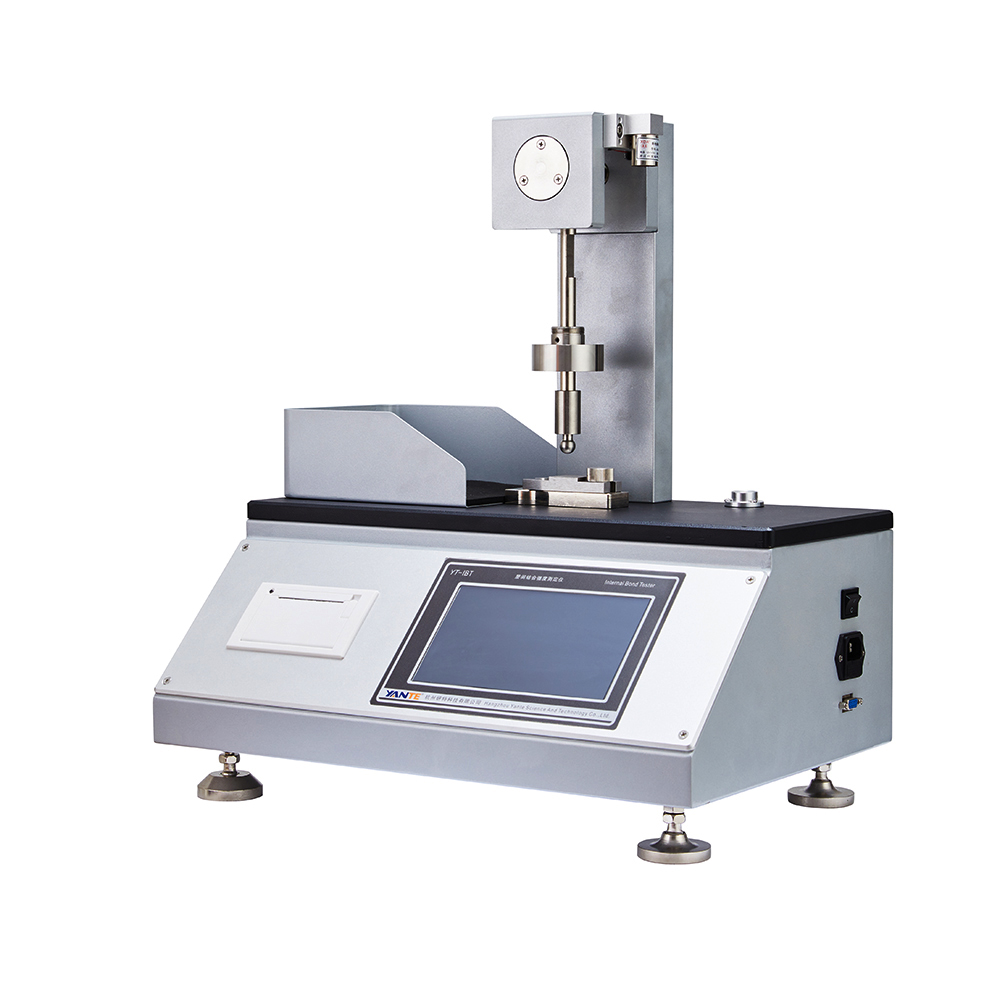 The interlayer bonding strength tester is mainly used to test the Z-direction tensile strength of paper and cardboard (ie, the interlayer bonding strength). Reflects the ability of paper and cardboard to resist the separation between layers, that is, the internal bonding strength of paper and cardboard. It is widely used in printing, packaging and other industries.
Application scope:
Layered paper materials such as paper, cardboard, grayboard paper, and ox cards, cigarette cases, fiber materials, etc.
Product Features
1. The whole machine has strong rigidity and stable structure to avoid energy loss caused by vibration during the test;
2. Reliable sample clamping and positioning can reduce the error caused by sample sampling.
Technical parameters:
Power supply voltage: AC (220±10%) V, 50Hz
Working environment: temperature (10~35)℃
Relative humidity: ≤ 85%
Sample size: 25.4×25.4 mm
Measuring range: A file: (20-500)J/m²; B file: (500-1000)J/m²
Accuracy: A file: ±1J/m²; B file: ±2J/m²
Printing: Built-in thermal printer
Communication output: RS232
Dimensions: 500×360×600 mm
Net weight of the instrument: ≤60kg
Standard configuration:
The host of the Internal Bond Tester
2. B file weights;
3. Printing paper;
4. Power cord.
Standards
GB/T 26203
Hangzhou Yante Science And Technology Co.,Ltd.. is a high-tech enterprise in Hangzhou, mainly engaged in the research and development, production, sales and service of various intelligent testing instruments and automatic control equipment in the packaging, paper, printing, textile, cigarette, electromechanical, chemical and other industries. The company has 15 computer software copyright patents, 4 invention patents and utility model patents. It has a CMC measuring instrument manufacturing license and operates in accordance with the ISO9001 international quality management system. It is a new domestic professional testing instrument supplier with a strong sense of pioneering and innovation.
We are dedicated to independent innovation in the field of testing instruments and meters. We develop and produce special testing instruments with advanced technology, high quality and low price. The main products are whiteness meter, colorimeter, compression testing machine, horizontal (vertical) paper Computer tensile tester, smoothness tester and box compression tester are used in papermaking, packaging, chemical, printing and other industries.
"Professional, thick, honest, continuous innovation" YANTE company constantly pursue, and strive to innovate the business philosophy, to provide customers who need testing instrument with professional industry solutions and high quality services, determined to become the leader of paper and packaging testing instrument industry.